Dosing and Administration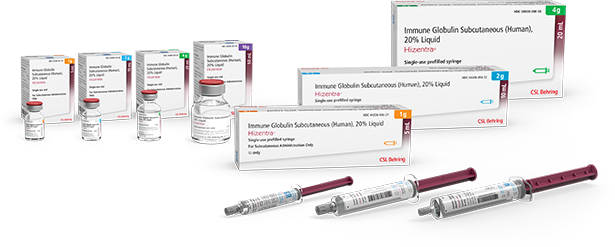 Self-administered Hizentra lets you plan treatment around your patient's life
Your patients are all different and deserve a treatment with the flexibility to fit their individual needs and preferences. Use the guidelines and dosing calculator below to initiate a patient's Hizentra therapy. Monitor the patient's clinical response and adjust the duration of therapy based on patient need.
See how easy self-administration is with Hizentra
Self-infusing with Hizentra prefilled syringes
Self-infusing with Hizentra vials
Free online administration training is available for PI
Become a SHARE Hizentra administration specialist:
Complete training in about

1 hour

at your convenience
Get a certificate of completion
Add your practice to the Nurse Locator so patients in your area can find you!
Convenient dosing and self-administration for PI
PI dosing calculator
Patient Profile
---
†To convert milliliters to grams, divide milliliters by 5.
Dosing Results
---
Based on an IVIg dose of [number] grams every [frequency] weeks, your Hizentra dose every [infusion] day(s) will be:
Formula used by the calculator to determine a weekly dose:
Initial weekly recommended dose of Hizentra
= 1.37 x
Previous IVIg dose (grams)

---

Number of weeks between scheduled IVIg doses
Over time, the dose may have to be adjusted to achieve the desired results. To determine if a dose adjustment is needed, measure the patient's serum IgG trough level 2 to 3 months after transitioning to Hizentra. To learn how to adjust the dose, please see the full Prescribing Information.
The goal is to achieve a systemic serum IgG exposure (area under the concentration-time curve) not inferior to that of the previous IVIg treatment.
Use the patient's clinical response as the primary consideration in dose adjustment. Additional dosage increments may be indicated based on the patient's clinical response (infection frequency and severity).
Formulas for converting a weekly Hizentra dose to other frequencies:
| | | |
| --- | --- | --- |
| Every 2 weeks dose | = | 2 x weekly dose |
Frequent dose
=
Weekly dose

---

Number of doses per week
Initiating Hizentra therapy for PI
Before switching to Hizentra, obtain the patient's serum IgG trough level to guide subsequent dose adjustments

Weekly: Start Hizentra 1 week after last Intravenous Immune Globulin (Human) (IVIg) infusion. Initial weekly dose = (Previous IVIg dose [in grams] / No. of weeks between IVIg doses) X 1.37
Biweekly (every 2 weeks): Start Hizentra 1 or 2 weeks after the last IVIg infusion or 1 week after the last weekly SCIg infusion. Administer twice the calculated weekly dose
Frequent dosing (2 to 7 times per week): Start Hizentra 1 week after the last IVIg or SCIg infusion. Divide the calculated weekly dose by the desired number of times per week

Adjust the dose based on clinical response and serum IgG trough levels
Administering Hizentra therapy
Hizentra should be administered subcutaneously only. Do not administer intravenously. Hizentra can be dosed daily up to every 2 weeks for PI using an infusion pump and relatively small needle(s).
A Hizentra dose may be infused into multiple injection sites. Use up to 8 sites per infusion. More than one infusion device can be used simultaneously. Infusion sites should be at least 2 inches apart. Change the actual site of infusion with each administration

Recommended infusion sites include the abdomen, thighs, upper arms, or side of upper leg/hip

SC needles are smaller than IV needles. Depending on a patient's size and weight, a needle as short as 4 mm or as long as 14 mm can be used
Patients infuse less volume with Hizentra than with
10% Ig products
Half the volume of 10% Ig products‡

Infused in smaller doses more frequently than IVIg
‡

Based on equivalent dosing in grams.
Encourage patients to start and stay on therapy
Information and resources are available to help patients manage their ongoing administration of Hizentra.
Managing therapy
Frequently asked questions about Hizentra
Want to know more about Hizentra? See answers to prescribers' frequently asked questions.
See the answers